Prayer of the Day
Sixth Week of Easter – Feast of St. Philip & St. James, Apostles
May 3rd, 2016
"I am the way, and the truth, and the life."
John 14 : 6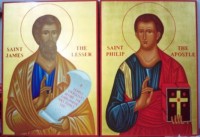 Jesus  told the Apostles when he was with them before the 'Ascension'  you will receive power when  the spirit comes to you,  gentle Counsel  to assure them of the prompting of the Holy Spirit when they renew their prayer in times of doubt, the powers of darkness are ever present in the world, but the presence of the Holy Spirit is ever ready to help those who have faith in his power to help them.
St. Philip asks to see and,  having seen,  he tells the Good News to others.  He was born at Bethsaida.  Formerly a disciple of John the Baptist,  he became a follower of Christ.  St. James,  the son of Alphaeus and a cousin of the Lord,  ruled the Church at Jerusalem,  wrote an Epistle,  and led a life of penance.  He converted many of the people of Jerusalem to the faith and was martyred in the year 62.
Prayer
I pray opening the door of my heart to seek his presence. Come Holy Spirit, best gift of God above, the Living spring, the living fire, sweet unction and true love. Amen