Prayer of the Day
The end of the Civil Year 2015
December 31st, 2015
"The Word became flesh and dwelt among us."
John : Prologue 14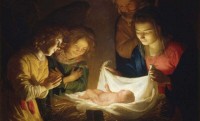 The Word is Jesus,  the Logos.  The Logos is God.  Jesus is God,  the second person of the Blessed Trinity.  He was sent by God the Father to our earth to be the presence of God among us.  He wanted to help us to know God,  a loving God,  full of tenderness and compassion for us poor,  weak,  sinful mortals.
In the Old Testament god came across as a stern judge.  Jesus revealed to us the loving,  merciful,  kindly face of God,  His Father.  From Jesus came an extraordinary love,  gentleness and understanding towards us sinners.  He was accused by his enemies of dining with prostitutes and sinners.  Jesus was always on the side of the poor,  the weak,  sinners.  He was the Good Shepherd seeking the stray,  lost sheep of His flock.
John the Baptist introduced Jesus as  "the Lamb of God' who takes away the sins of the world." (John 1 : 35)   In the vision at Knock,  Jesus came to us on the altar as a Lamb.  A lamb is not one to inspire fear,  it is small,  weak and frail looking.  The first words spoken by Jesus in his public ministry was to ask the Baptist's two disciples,  Andrew and his friend; "Whom do you seek?"  The word seek is very important.  What answer have we,  Christ's followers,  got to that question?
Prayer
We pray that we as God's people may come to realise the dignity to which God has raised our weak, human nature by becoming one of us. May we work together for the unity of the whole of Creation. Amen