Prayer of the Day
Third Sunday of Advent
December 15th, 2013
""Rejoice in the Lord always. Again I say rejoice. The Lord is near.""
Philippians 4 : 4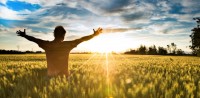 The above Entrance Antiphon taken from St. Paul's letter to the Philippians sets the tone for to-day's liturgy.  It calls us to be people of joy.  Isaiah in the first Reading expands on this theme as he paints a beautiful picture where even nature exults and blooms. (Isaiah 35 : 1)    And why all this rejoicing?  The answer is clear.  "Your God is coming,  he is coming to save you." (Isaiah 35 : 4)
This is good news for everyone but especially for the blind,  the deaf,  the lame,  the dumb,  all of whom will experience healing and liberation.  But the fainthearted,  the fearful and the weary are also called to shout for joy.  No one is excluded. What about us ?  Are we also included in this joy filled invitation.  Indeed we are !   Whatever our present circumstances may be,  the Lord wants to come into our lives in a new and deeper way this Christmas and  fill our hearts with his joy.  We may be struggling to make ends meet or trying to cope with sickness.  Whatever situation we find ourselves in we can still experience God's gift of joy.  We have only to desire it,  to ask for it.  So during these last days of preparation for Christmas,  let us find time to prepare our hearts for this gift of joy which will remain with us long after all the decorations are taken down.
Prayer
Father of our Lord Jesus Christ the earth rejoices in the hope of the Saviour's coming. Prepare our hearts and remove the sadness which hinders us from feeling the joy which his presence will bestow for He is Lord for ever and ever. Amen (Opening Prayer of to-day's Mass, adapted)