Prayer of the Day
Third Sunday of Lent
March 8th, 2015
""Destroy this temple and in three days I will raise it up.""
John 2 : 19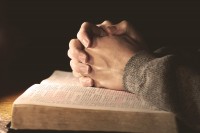 Resolve to pray silently,  seriously about am I worth saving?   Look at the 1st Station of the Cross and say Jesus gave His Life to save me.
Stop – Think – Pray
Read to-day's Gospel and consider You are God's Temple!
Implore and wish Him to help you get rid of the clutter,  save and use your time when and how you will in God's name.
Prayer
O my God put your thoughts in me. Amen