Prayer of the Day
Third Week of Advent
December 19th, 2013
""Zachariah, do not be afraid, your prayer has been heard. Your wife Elizabeth is to bear you a son and you must name him John. He will be your joy and delight and many will rejoice at his birth.""
Luke 1 : 13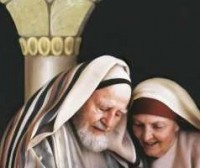 To-day we begin a series of readings from the first Chapter of Luke's Gospel which will prepare us for the birth of Jesus.  First of all we meet the priest Zachariah,  husband of Elizabeth,  who is Mary's cousin.  We learn that this elderly couple had been praying for a child for many years.  Now God sends the Angel Gabriel to Zachariah as he offers sacrifice in the Temple,  to tell him that their prayer is answered.  Elizabeth will bear a son whom he is to name John.  Zachariah couldn't believe his ears and began questioning the Angel's message.  As a result he is struck dumb until his son,  John the Baptist is born.
There are many lessons we could learn from this beautiful story.  Perhaps the most obvious is the importance of persevering in prayer.  John the Baptist's birth to a couple well advanced in years was certainly an answer to their fidelity to prayer.   We are reminded of the story of Abraham and Sarah who had also prayed for years that they would be blessed with a child.  Again God heard their prayer.  Sarah conceived in her old age and Isaac was born.
So whatever gift we may be longing for this Christmas let us renew our faith in the power of prayer to attain for us what is for our good.
Prayer
"O root of Jesse, you stand as a sign for all people. Before you rulers keep silence; from you all nations seek help. O come to free us and do not delay." (Gospel Acclamation for to-day : Third O Antiphon) Amen