Prayer of the Day
Third Week of Advent
December 15th, 2015
"Jesus said to them; 'I tell you solemnly, tax collectors and prostitutes are making their way into the Kingdom of God before you.'"
Matthew 21 : 31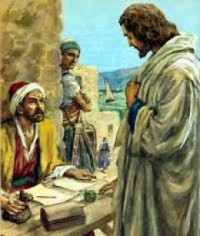 To-day's Gospel passage comes from a discussion which Jesus had with the chief priests who were questioning His authority to cleanse the Temple.  First Our Lord reminds them of how they had refused to believe in John the Baptist when he preached repentance.  Then He tells them the parable of the two sons – the first said he would do the fathers' will but didn't.  The second refused at first but afterwards repented.
Jesus praises the tax collectors and sinners because unlike the Jewish leaders they accepted John's teaching and repented.  These leaders of course looked down on any group of people who didn't observe the full rigour of the Law and all the extra rules they had introduced.  Mercy had no place in their religion whereas mercy was at the heart of Our Lord's teaching and practice.  This is why He had come – to bring Good News to the poor – to let them experience God's mercy and forgiveness.
In his prayer for this Jubilee Year of Mercy Pope Francis recalls some of the occasions when Jesus showed great mercy.  His 'loving gaze' liberated the tax collectors Zacchaeus and Matthew,  the adulteress and Magdalene and brought tears to Peter after his betrayal.  As we enter into this Jubilee Year let us try to make this prayer our own.
Prayer
Lord Jesus Christ, you have taught us to be merciful like the heavenly Father, and have told us that whoever sees you sees Him. Show us your face and we will be saved. (First Part of Jubilee Prayer) Amen