Prayer of the Day
Third Week of Advent – Feast of St. Flannan, Bishop
December 18th, 2015
"When Joseph woke up he did what the Angel of the Lord had told him to do; he took his wife to his home."
Matthew 1 : 24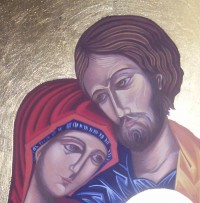 To-day's Gospel describes Joseph's part in the birth of Jesus Christ.  When he noticed that Mary,  his betrothed,  was pregnant and knowing he wasn't the father of her child,  he must have gone thro' agony.  No doubt he spent time in prayer and perhaps asked advice from some wise person but 'being a man of honour' (Matthew 1 : 19) he finally decided to spare Mary publicity and dismiss her quietly.  It was while Joseph was planning this he had his Visitation – probably from the same Angel that had come to Mary months earlier.  The messenger came in a dream and told Joseph to take Mary home as his wife since the child she was carrying had been conceived thro' the power of the Holy Spirit.  He was also told that the child would be a boy and he was to name him Jesus.  In other words Joseph was to be a father to Mary's son.  Joseph obeyed the Angel's word and so God' plan to have his Son born into a normal family was accomplished.
We're told that one of the few statues in Pope Francis' room is that of St. Joseph asleep recalling Joseph's obedience and unique role as foster father of God's only Son.   It seems that when the Pope has a special intention he writes a note,  puts it under that statue and entrusts it to Joseph's prayers.   Let us also go to St. Joseph and ask for help so that we may be better prepared to welcome Mary and her baby into our hearts and home this Christmas.
Prayer
Dear St. Joseph, be for us a guide and protector as you were for the Holy Family. Share with us your faith, your obedience, your simple life style and especially your love for Jesus and Mary. (Ven. P. B. Noailles - Founder of Holy Family Association) Amen