Prayer of the Day
Third Week of Advent – Feast of St. Flannan, Bishop
December 18th, 2013
""Joseph, son of David, do not be afraid to take Mary home as your wife, because she has conceived what is in her by the Holy Spirit. She will give birth to a son and you must name him Jesus.""
Matthew 1 : 21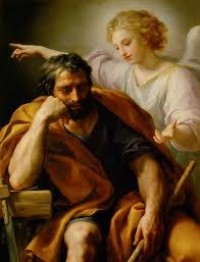 We are told that among the few religious objects which Pope Francis has in his room is a statue of St. Joseph sleeping !   I must admit I found that strange until someone reminded me about St. Joseph's dream.  Of course it was when he was asleep that Joseph had his visitation from the Angel.   Our Lady's visit from the Angel Gabriel is well known to all Christians but we are not so familiar with the Angel's visit to Joseph which happened in a dream.  But Joseph's visitation is also very important.  After all Mary needed a husband and her child needed a human father if there was to be a Holy Family.
We have no words spoken by Joseph in any of the Gospels but what we do have is more important.  We are told that when Joseph woke up he did what the Angel told him.   As we prepare to celebrate the birth of Jesus in a week's time it would be good to think about Joseph's part in God's plan for his Divine son.   Having accepted the Angel's message Joseph took Mary home as his wife.   He accompanied her to Bethleham,  found a place for her to give birth to her child whom he welcomed and reared as if he were his own flesh and blood.
It was St. Joseph whom Jesus first called Abba,  the name by which he would address his Heavenly Father in later years.   Joseph had indeed a very special vocation – one which he accomplished with fidelity and love.
Prayer
"O Adonai and leader of Israel, you appeared to Moses in a burning bush and gave him the Law on Sinai. O come and save us with your mighty power." (Gospel Acclamation for to-day's Mass : Second O Antiphon) Amen