Prayer of the Day
Third Week of Advent – Feast of St. Peter Canisius
December 21st, 2013
""Blessed is she who believed that the promise made her by the Lord would be fulfilled.""
Luke 1 : 45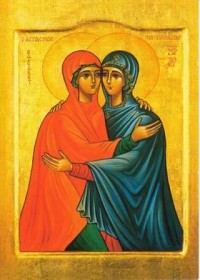 To-day's Gospel begins with the beautiful story of the Visitation.  Mary,  the young mother-to-be hurries over the hills to visit her elderly cousin who is already six months pregnant.  We don't know with what words Mary greeted Elizabeth but surely they were hallowed words since they touched not only Elizabeth but the babe in her womb.  Yes we are told that the babe John 'leaped for joy.' (Luke 1 : 44)
We can only imagine what a grace filled time this was when over the coming weeks these two women shared their stories.  Elizabeth speaks of Mary's faith but she too must have been a woman of deep faith.  It was no doubt her faith that sustained her over the years as she and her husband Zachariah prayed to be blessed with a child.   Now it's that faith which enables her to see her young cousin as the one chosen by God to be the mother of the Messiah.   While Mary's primary intention in making the long and difficult journey to her cousin was surely to help her as she prepared for the birth of her son she must have welcomed the opportunity to share her good news with another woman of faith.   No doubt she appreciated Elizabeth's prayerful support and encouragement as she faced an unknown future.  After all she hadn't yet shared the story of the Angel's visit with Joseph to whom she was engaged.  She had to believe and trust that God would reveal everything in his own time which of course he did.
As we draw closer to the great feast of Christ's nativity let us ask these two women of faith to help us grow in faith so that we may recognise the Christ child not just in the Crib but in the Sacraments and in all those whose lives we touch.
Prayer
"O rising sun, splendour of eternal light and brilliant sun of justice, come and light up the darkness which keeps us in the shadow of death." (O Antiphon for to-day) Amen