Prayer of the Day
Third Week of Advent
December 16th, 2013
""Come to us Lord and bring us peace. We will rejoice in your presence and serve you with all our heart.""
Communion Antiphon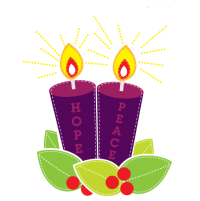 During the season of Advent all the readings and prayers focus on the Lord's coming.   We recall his first coming to us a s a babe 2000 years ago,  celebrate his coming into our lives to-day and look forward to his final coming at the end of time.   The Christmas Crib,  first made by St. Francis helps us remember the past while the Christmas Masses enable us to celebrate his coming into our hearts to-day.  But what about the future coming ?   For the Early Church it was the final coming of Christ that was foremost in their thoughts and prayers.
The Book of Revelation,  the last book in the Bible concludes with this short prayer; "Come, Lord Jesus." (Rev. 22 : 20)   It is a cry of the heart uttered by a people who are longing for the Lord's return.  What about us ?   Are we longing for the Lord's return ?   Every time we celebrate the Eucharist, whether we realise it or not,  we pray that Christ's return may be hastened.   When will this happen ?   We don't know,  nor do we know how it will take place.   But we believe,  as a cherished truth of our faith that Jesus will return in glory.  The important thing is to be ready to welcome Him as our Lord and Saviour.   We are told in the story of Francis of Assisi that one day when working in the field he was asked by a brother what he would do if he knew Christ was coming back that day.  He said he would continue working in the field.  Francis was ready to meet his God.
Prayer
Lord help us to live our lives in such a way that we may be always ready to welcome you whether you come in the guise of the poor or come as our glorious Lord. We make this prayer in your name. Amen