Prayer of the Day
Third Week of Easter
May 8th, 2014
""No one can come to the Father except through me, drawn by the Father who sent me.""
John 6 : 44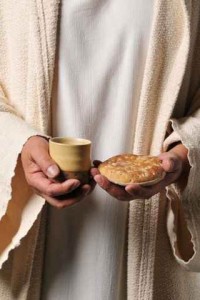 Jesus' words are few but so meaningful one has to sit down and ponder over them like the old women nowadays to grasp the full meaning of them.   Jesus continues; "I will raise him,"  and in my heart I say 'oh Lord not the men only!'  It is a consolation to hear Jesus' reply in my own heart, "They will all be taught by God and to hear the teaching of the Father and learn from it is to come to me." (John 6 : 45)
The way to come to Jesus is through the Eucharist.  Jesus says; "I am the Bread of Life."   Yes,  Jesus is with us through His own words; "I am with you always."  We hear them in the celebration of Mass;  "This is my Body.  This is my Blood."  Jesus communes with us in His words the "Word of Life" and in the "Bread of Life."   We are to pass his love around.   Communication in thoughts,  words and deeds.  Everyone who has faith,  believes what Jesus says,  makes this Jesus live and move in our being.
Prayer
We pray, 'Lord let it be' and repeat it as often as we like. May we listen deeply to Jesus' words. Amen