Prayer of the Day
Third Week of Easter
May 9th, 2014
""My flesh is true food and my blood is real drink.""
John 6 : 55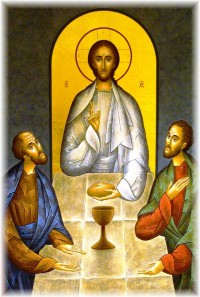 "My flesh is real food and my blood is real drink."  Those who first heard Jesus say this were Jews and they argued about Jesus' words.  The human reality to them was impossible for them to swallow,  but Jesus' Words repeated again and again helps those who read and hear them;  the depth and meaning that is in them.
Often we sang the plain song "Adoro te" during Benediction;  Adoring the Godhead of Jesus in the Eucharist.  Human arguments continue perhaps about the reality of God being in Bread,  but Jesus chose Bread,  the commonest food we eat;  fruit of the earth and work of human hands;  to be with us until the end of time;  to explain the simplicity of his Reality.
Prayer
"My Lord and my God." It is the spirit that gives life. The flesh has nothing to offer. The words I have spoken to you are spirit and they are life. Amen