Prayer of the Day
Third Week of Easter
April 20th, 2015
""Do not work for food that cannot last, but work for food that endures to eternal life.""
John 6 : 27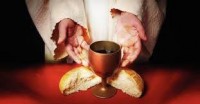 The day after the miracle of the loaves and fishes,  some of the crowd got into a boat and followed Jesus to the other side of the Lake.  Perhaps they hoped He would repeat the miracle of the previous day.  However,  the bread Jesus came to give us was the gift of Himself – the living bread come down from Heaven.  Those of us who eat that bread will live forever.  We know this on the word of Jesus.  He meant what he said to His Apostles at the Last Supper; "Take and eat.  This is my body."   Jesus has a hunger and thirst for us poor sinners whom He wants to have with Him at His table.  He wishes to draw all people to Him – the hungry,  the lost,  the sinners,  the powerless,  those whom the world despises.
All are His children.  God has created us in his own image and likeness.  He doesn't want to lose even one of us. He will seek the lost sheep until they are found.   Jesus wants us to be with Him forever.  Never in this life will we be able to understand and grasp God's amazing hunger for his people.  He wants to be with us always.  So,  He gives Himself to us in the Eucharist as our Bread of Life.  St. Augustine tells us that in every human heart,  there is a hunger for God,  which only God himself can satisfy.
Prayer
Let us pray: Help us Lord to be open to God as Mary was and allow Him to enter into our lives fully when we receive Him in the Eucharist. May each Eucharist we receive fill us with joy and gratitude to God for this wonderful gift of Himself. Amen