Prayer of the Day
Third Week of Easter – Feast of St. George, Martyr, Patron Saint of England
April 23rd, 2015
""Like a sheep that is led to the slaughter house. Like a lamb that is dumb in front of its shearers. Like these he never opens his mouth.""
Acts 8 : 33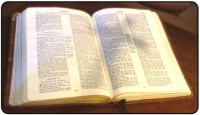 Writing about 700 B.C. the prophet Isaiah in these words is foretelling the patient suffering of Jesus during his Passion.   On his way out of Jerusalem at the height of Saul's persecution of the Christians in Jerusalem,  Philip the Apostle was amongst those who fled from the city.  In an angelic vision he had,  he was told to take the road to Gaza.  On his way he encountered an Ethiopian officer sitting in his chariot reading aloud these words of Isaiah.  Philip drew near the chariot.  The officer asked him to explain this passage to him.  Philip did so and when they came to water,  the officer asked to be baptised.
God works in mysterious ways,  often what seems like chance is God working in and through us revealing Himself to others.  In to-day's world Christians are still being persecuted.  However,  God gives us an abundance of grace enabling us to overcome often unforeseen problems.
Prayer
Let us trust in God and his holy Mother as we pray: Heavenly Father watch over your Church. Help her to reveal to us the beauty, truth and joy of the Gospel. Amen