Prayer of the Day
Third Week of Easter – Feast of St. Stanislaus, Bishop of Krakow, Poland
April 11th, 2016
"Stephen, full of grace and power, did great wonders and signs among the people."
Acts 6 : 8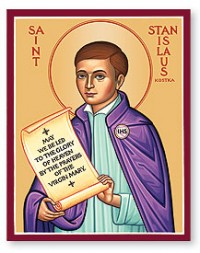 Reflection :  Stephen was filled with grace and power.
What centres us ?  Our sense of power or union with Jesus Christ ?
Consider the nature God has given us.  It is capable of eternal life and of being united to his Divine Majesty.  There is our source of peace.
Today is the feast day of St. Stanislaus who became Bishop of Krakow,  Poland in 1072.  His outspoken condemnation of corruption resulted in his murder in 1097.
Prayer
Jesus, give us to seek your presence through our daily life. Amen