Prayer of the Day
Third Week of Lent
March 28th, 2014
""Listen, O Israel, you must love the Lord your God with all your heart, with all your soul, with all your mind and with all your strength. You must love your neighbour as yourself.""
Mark 12 : 28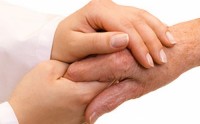 St. Paul tells us that the love of God has been poured into our hearts by the Holy Spirit.  God's love is never ending.  We are created in love,  the love of Father,  Son and Holy Spirit.  Christ said; "As the Father has loved me,  so have I loved you."
God's love for us never ceases.  It fills the whole of our lives.  It is never ending.  It is given to us to pass on to others,  not just to our friends,  the people who love us.  Christ is our model.  He says;  "Love one another as I have loved you."  Love is what denotes the followers of Jesus.  At the beginning of Christianity,  the pagans remarked;  "See,  how these Christians love one another."
Christ is our model of love.  We are to love as Christ loved.  No one was excluded from his love.  He prayed for his enemies.  Even on the Cross, he forgave them.  The source of divine love is within us.  Through the prayer in our lives and through the Eucharist especially,  we are enabled to love even our enemies.
Christ says that before we bring our gifts to the Altar,  we must first go and be reconciled with those we have hurt or those who have harmed us.  Then, our hearts will be open to receive God's gift of love.  We will get the strength to forgive and to love.  Your legacy of hurt memories will be healed and your love for all God's people will grow.
Prayer
Lord, help us to forgive and be forgiven, to start again when we fail. Increase in us our love for you. Amen