Prayer of the Day
Third Week of Lent
March 29th, 2014
""The tax collector standing afar off, beat his breast saying; 'God be merciful to me for I am a sinner.'""
Luke 18 : 13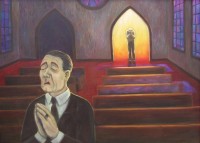 This is a humble,  heartfelt prayer which reaches the heavens.  The Pharisee on the other hand is not praying at all.  He is pointing out to God what a good person he is.  And he is unfavourably comparing the tax collector to himself.  It is obvious that he considers the tax collector to be a great sinner and himself a person of integrity.  As a learned man familiar with the Law,  the Pharisee knew the Commandments.  He must have forgotten that he must love his neighbour as himself!  Knowing the Commandments is one thing.   Living them in our daily lives is often difficult.
We need to ask God's help.  We do this when we pray.  Prayer puts us in touch with the all-holy God.  The Gospels tell us Jesus was a man of prayer – going often alone into the mountains to communicate with his heavenly Father.  Prayer is vital for our spiritual lives.  Through prayer we get in touch with God.  We get to know God.   He becomes our friend.  Are we not going to live with God for all eternity?  So,  let's hurry and make friends with God.  Even the longest life is very short.  And God is the centre and heart of our lives.  Our lives are in his hands.  How wonderful for us!
So,  let's have a little sacred space and a time when and where we meet our God every day.  He is waiting for us.   "Come to me all you who labour and are burdened and I will give you rest."  (Matthew 11 : 28)  "Be not afraid.  I am with you always." (Matthew 28 : 10)
Prayer
Glory be to the Father and to the Son and to the Holy Spirit now and forever. Amen