Prayer of the Day
Third Week of Lent – Feast of St. Macartan, Bishop
March 24th, 2014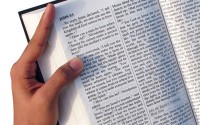 They dragged him out of their Synagogue,  out of their town.  They took him to the top of the hill intending to throw him down the cliff.   But,  they had no power over him.  He, "just slipped through the crowd and walked away," as St. Luke tells us.   One day,  Jesus went back to his home town of Nazareth and went into the Synagogue.
He immediately sensed the mood of his listeners.  They had heard of the wonderful miracles he had worked in Capernaum.  So,  they expected him to work even greater miracles here in Galilee, his home town.   Jesus,  immediately sensed it wasn't their faith in him or his Gospel that moved them.  As there was no faith there,  he could work no miracles among them.
He showed them his message was for all people.  God has no favourites.  We are all equal in his sight.  He mentioned that in the prophet,  Elijah's time,  when there was a famine,  God sent Elijah to help a poor widow in Sidonia – a non – Jewish area.   Likewise,  he reminded them of the many lepers in Israel in the time of Elisha,  the prophet.  But,  the only one God cured was Naaman from Syria, another non-Jew.
They were furious to think he would prefer to help foreigners instead of his own people.   They always assumed that the one true God was the God of the Israelites only.  He was their God.  No other Nation owned him!   God is our creator.  We are his people.  No one nation or people has an exclusive right to God.  He is the God of all humanity.  He loves us all equally,  no matter the colour of our skin or our status in society.  Let us rejoice and be happy because God loves us all,  saint and sinner alike.
Prayer
Lord, in these days of war and suffering, help us to reach out to refugees, "who are not our own" to welcome them and help them to find a new home for themselves. Amen