Prayer of the Day
Third Week of Lent – Feast of the Annunciation of the Lord
March 25th, 2014
""I am the handmaid of the Lord" said Mary. "Let what you have said be done to me.""
Luke 1 : 38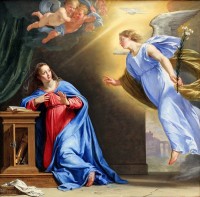 Giving her consent to God's Word,  Mary became the Mother of God.  She,  wholeheartedly accepted her mission in the history of our salvation.  To-day,  we celebrate the mystery of the Incarnation of the Son of God in the womb of the Virgin Mary.   The Word became flesh.  This is a momentous statement in the history of the human race.  The Word of God the Father came down to earth, became one of us.
In this child of Mary,  the unlimited,  eternal Word of God dwelt.  This Word of God given to us is the Word of life.  He was with God in the beginning.  "Through Him all things came to be" as St. John tells us in his prologue.
Everyday,  as we recite the Angelus,  we say those momentous words, "The word became flesh and dwelt among us."  This Jesus,  the Word of God is a Word of life.  This Word of life speaks to us inviting us to share in God's life.   Like Mary,  we must treasure this Word in our hearts.  We must ponder on it.   St. John tells us that through this Word,  "all things came to be."  God came down to earth to lift us up.  He took on Himself the weakness of our human life.  He offered himself to us and invited us to come and follow him.  God wants to raise us up so that we may come to him and share in his divinity.
Prayer
Holy Mary, Mother of God, pray for us sinners, now and always. Amen