Prayer of the Day
Thirtieth Sunday of the Year
October 26th, 2014
""You shall love the Lord your God with all your heart, with all your soul, and with all your mind.""
Matthew 22 : 37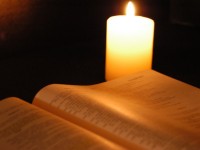 Our Lord's enemies often asked him questions in order to test him but Jesus was never stuck for an answer.  So when a lawyer asked which was the greatest commandment of the law Our Lord had no hesitation in quoting the great prayer of Judaism – the Shema Yisrael (Deuteronomy 6) which demanded a whole hearted love of God.  But then without being asked Jesus proclaimed the second commandment,  love of neighbour, (Leviticus 18) saying that these two commandments sum up the whole law and the prophets.  Love of God and love of neighbour were not new precepts but Jesus emphasises the necessary connection between the two as no one had ever done before.  You can't have one without the other.  Love of God whom we cannot see is meaningless if it is not expressed in love of God's children.  And likewise,  love of people is incomplete if it is not inspired and sustained by love of God.
Jesus showed us how to live the total Gospel.  He expressed his love for his Father thro' a life of loving obedience and his compassionate love for others led him to the Cross.  We have many examples of men and women who lived these two commandments of love in a heroic way.  Blessed Mother Teresa often said it was her love of Jesus and his strength which enabled her to daily serve the poor with love.
Prayer
God our loving Father we thank you for your great love which you showed by sending us your Beloved Son. May his example of self sacrificing love inspire and sustain us as we strive to love you and to love one another. We ask this thro' Christ Our Lord. Amen