Prayer of the Day
Thirty First Sunday of the Year
October 30th, 2016
"Zacchaeus, come down quickly for I must stay at your house today."
Luke 19 : 5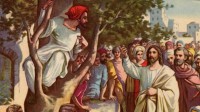 Today, we see the action of the Lukan Jesus with a notorious sinner. He singles out the one who was the neediest in order to show him the personal love of a Saviour. It causes a change in the life of the recipient, and a call to come closer to Jesus.
Again in this year of Mercy we are encouraged to go out to those who feel on the margins of society and help them to become whole again, to feel loved and valued, and help them to develop their giftedness for the Kingdom of God.
Prayer
We pray for all who spend their lives caring for others in different ways, asking that they be enabled to do this work and have the means to carry it through. Amen