Prayer of the Day
Thirty Third Sunday of the Year
November 15th, 2015
"You have got to be ready when he comes."
Mark 13 : 33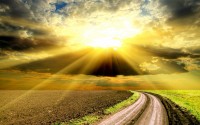 "You will be hated by all men because of my name  but those who stand firm will be saved.  There will be great distress even now we see people fleeing from thirty three countries to places of safety away from death and destruction."
Let us find solace in reading Daniel about Michael the Archangel standing guard over God's people in great distress fearing for their lives.  God is rescuing them from the power of evil that exists in the world.  Jesus the Son of God lived like a human being,  suffered and was crucified to redeem us from sin and remains ever present in our lives through his Sacraments.
Sunday thought :   Bless us with the gifts of celebration and appreciation.  Risen Christ give us the capacity to resurrect others,  to love them back to life.  Deepen our belief in the Resurrection into eternal peace.  "Why do we look for the living among the dead?"
Prayer
O God, strengthen our faith when we say the Creed and say I believe in God, I believe in the Gospel, may the power of his words stay in my mind always enabling me to stay in his presence of faith, hope and love forever. This I pray in the name of Jesus Christ my saviour. Amen