Prayer of the Day
Twelfth Sunday of the Year
June 19th, 2016
"But, who do you say that I am ?"
Luke 9 : 20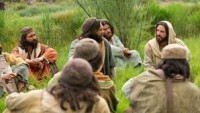 Jesus puts to his disciples the deepest and most sacred question that we can ask one another: "Who do you say I am?"  The Christian faith goes beyond knowing what others believe. It requires us to hold beliefs for ourselves. When Jesus asks, "Who do you say that I am?"  he wants us to take a stand. Who do you say Jesus is?
We will be called upon to renew our first dedication, to summon our memories, to make our clearest decision – to be prepared to follow Jesus the 'last long stretch of the road'.
Prayer
Lord, I ask for the courage to stand by you and to respond with Peter that I believe you are Christ, the Son of God. Amen