Prayer of the Day
Twenty-Eight Sunday of the Year
October 12th, 2014
""Invite everyone you can find to the wedding.""
Matthew 22 : 9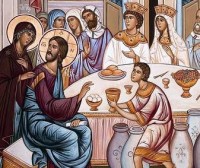 There is now no "chosen people", no elite. The Church calls all to its bosom. It is, and always will be, a Church of both saints and sinners. We need to remember that there will always be constant temptations to create first- and second-class tiers of membership. 
While many, in fact all, are called to the banquet, they are expected to behave as wedding guests.   While the Church opens wide its arms to the sinner, it expects that he make some effort to repent and be converted.  
We have seen  while Jesus went out of his way, to be friendly with the tax collector and the prostitute, it was not an  acceptance of their ways but a means of calling them to conversion and change. "Your faith has made you whole; do not sin again; come, follow me."
 The knowledge and experience of God and Jesus that our faith and membership of the Church gives us should be the most precious gift in our lives.
Prayer
Lord, give us a deeper understanding of just what Jesus can be for us in finding meaning and happiness in our lives. Amen