Prayer of the Day
Twenty-Second Sunday of the Year
August 31st, 2014
""Peter took Jesus aside and began to rebuke him, saying "God forbid it, Lord! This must never happen to you…""
Matthew 16 : 22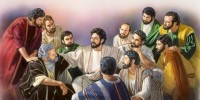 Jesus has been telling his disciples that he would have to undergo great suffering 'at the hands of the elders and chief priests and scribes' – i.e. the entire Sanhedrin, and that 'he would be killed, and on the third day be raised." It was at this point that Peter said that this should never happen to Jesus. Why then did Jesus not appreciate the words of Peter? Although he believed in the resurrection of the just, Peter revolts at the suggestion that Jesus would have to pass through humiliation and death. Jesus turned to Peter and told him to "get behind him" – i.e. he must learn again how to follow Jesus – take your place as a disciple. You are placing an obstacle on my path, i.e. God's plan for me. This rebuff is in contrast to the blessing Jesus gave to Peter in chapter 16:17 – "Blessed are you, son of Jonah…"
Suffering and death remain a stumbling block which sometimes turns Christians away from faith. In proclaiming Jesus the Son of the Living God, we must not forget the Crucifixion, and our solidarity with those who are suffering. Jesus reminds his followers that those who forget themselves will find their real dignity as they resemble him.
Prayer
Jesus, meek and humble of heart, may my heart like yours. Amen