Prayer of the Day
Twenty-Seventh Sunday of the Year
October 5th, 2014
""By their fruit you will recognise them.""
Matthew 7 : 20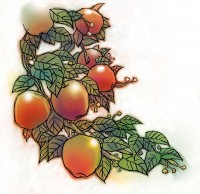 The Parable of the Wicked Tenants (Matthew 21 : 33-43) was to-day's Gospel Reading.  The main elements of this parable are; 1. the landowner – God,  2. the vineyard – Israel, 3. the tenants – the Jewish religious leaders,  4. the landowner's servants – the prophets and priests who remained faithful to God and preached to Israel,  5.  the son – Jesus (21 : 38) and 6. the other tenants – the Gentiles.    Jesus was exposing the religious leaders murderous plot. (21 : 45)  In trying to reach us with his love God finally sent his own Son.  Jesus' perfect life,  his words of truth and his sacrifice of love are meant to cause us to listen to him and to follow his as Lord,  if we ignore God's gracious gift of his Son we reject God himself. (21 :37)   Jesus refers to himself as "the stone rejected by the builders." (21 :42)   Although Jesus was rejected by many of his people,  he will become the capstone,  or cornerstone of his new building,  the Church.
Imagine never being "worried about anything."   It seems like an impossibility – we all have worries at work,  in our homes,  at school,  but Paul's advice is to turn our worries into prayers.  Do you want to worry less?   Then pray more!   Whenever you start to worry,  stop and pray.  And the power of Christ which transcends all understanding,  will guard your hearts and minds in Christ Jesus.
Prayer
God of hosts, bring us back, let your face shine on us and we shall be saved. The people know that through Jesus we are reconciled. Strengthen our awareness of your continued reconciliation in the world to-day. In your great love for your people have mercy on us. Amen