Prayer of the Day
Twenty Sixth Sunday of the Year
September 25th, 2016
"And at his gate lay a poor man named Lazarus, covered with sores."
Luke 16 : 20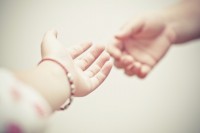 "Jesus said to the Pharisees; 'There was a rich man who used to dress in purple and fine linen and feast magnificently every day.  And at his gate used to lie a poor man called Lazarus,  covered with sores,  who longed to fill himself with what fell from the rich mans' table.  Even the dogs came and licked his sores….'" (Luke 16 : 19 – 31)
Ours is a world of contrasts,  there is poverty amidst plenty and famine amidst opulence.  Yahweh loves justice.  Amos denounces the glaring inequalities.  The Gospel talks about the rich man who lived in luxury during his life,  blind to the needs of others,  and Lazarus who,  in his misery,  put his trust in God and reaped rich reward in Heaven.
Prayer
Lord, in your mercy give us to love and share. Amen