Prayer of the Day
Week of Prayer for Christian Unity begins
January 18th, 2014
""As he was walking along, he saw Levi son of Alphaeus sitting at the tax booth, and he said to him, 'Follow me' and he got up and followed him.""
Mark 2 : 14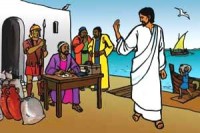 Levi is another name for Matthew – the disciple who wrote the Gospel of Matthew. Capernaum was a key military centre for Roman troops, as well as a thriving business community. Several major routes intersected in Capernaum, with merchants passing through from as far away as Egypt to the south and Mesopotamia in the north.  Levi, a Jew, was appointed by the Romans to be the area's tax collector. He collected taxes from citizens as well as from merchants passing through town. Tax collectors were expected to take a commission on the taxes they collected. Most of them overcharged and vastly enriched themselves. Tax collectors were despised by the Jews because of their reputation for cheating and their support of Rome.
The day that Levi met Jesus, he held a meeting at his house to introduce others to Jesus. The self-righteous Pharisees were indignant that Jesus would eat a meal with such sinners. Jesus spent time with whoever needed or wanted to hear his message. We could ask ourselves the question: Are there people we have been neglecting because of their reputation?  They may be the people who most need to see and hear the message of Christ's love in and from you.
Prayer
Lord, help me not to judge other people harshly. Amen