Creation Time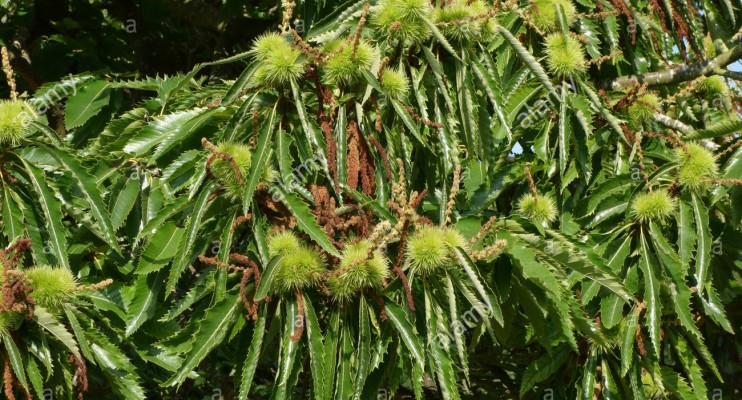 In this Creation time from the 1 September to the 4 October my eyes are drawn towards the beautiful Spanish Chestnut Tree in the grounds of Mt. St. Anne's in Killenard, County Laois.
There she stood throughout Winter, -solid, strong and yet bare. Snow came and covered her in a beautiful white mantle. – But bare she remained throughout Spring- no leaves appeared. I wondered would we ever see the green again on her beautifully formed branches. It was a waiting time. It seemed nothing was happening. Nature knew how to wait until that time after Easter when Brother Sun blessed us with warmth and light. Everything began to change and leaves adorned our wonderful chestnut. Little by little she blossomed and catkins appeared and she stood arrayed in such majesty, and beauty. Summer came and now the fruits are there in abundance. What lavishness- given for our delight, inspiration and enjoyment.
Poem: When I am among the trees by Mary Oliver
When I am among the trees, especially the willows and the honey locust, equally the beech, the oaks and the pines,
They give off such hints of gladness. I would almost say they save me, and daily.
I am so distant from the hope of myself,
in which I have goodness and discernment,
and never hurry through the world but walk slowly, and bow often.
Around me the trees stir in their leaves,
And call out "Stay awhile".
The light flows from their branches.
And they call again, "It's simple," they say "and you too have come
into the world to do this, to go easy, to be filled with light, and to shine."
Anne Kearney HFB