LEANING ON THE WINDOWSILL OF HEAVEN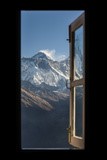 "Every morning, lean your elbows awhile on the windowsill of heaven
and gaze upon the Lord.
Then turn strong to meet your day."
The above quotation is taken from a leaflet which I found at a retreat centre some years ago. It has given me much food for thought and, as we move into a New Year, I decided to share a short reflection on it.
The Bible, especially the Book of Psalms, contains many references to morning. Each morning we are invited to stand before the mystery of our own life – to pause awhile in order to 'gaze upon or contemplate the Lord' so that with renewed energy we may face the day's challenges. The prophet Job spoke of 'the eyelids of the morning' – a lovely image of dawn, when the whole world comes alive again, reflecting the glory of the Creator. The earth, too, has a voice with which to praise God. There are references to "the pastures clothed with flocks", and the valleys covered with grain: "they shout for joy, indeed they sing."
The beginning of a New Year is an appropriate time to move into the newness of God and to view the world as Christ sees it each day. There is a new and fresh experience of God's love within each day. When Mother Teresa was asked what she saw when she witnessed the plight of the poor and suffering, she replied "I see what Jesus sees." In other words, we are invited to see our world through the eyes of Jesus. Jesus saw the magnitude of human pain.
We are living in a sacramental universe. Pope John Paul 2 said that "care for creation is an essential part of Christian faith." The aesthetic value of creation must not be overlooked. Our poets have appreciated this and have left us magnificent images of God's presence everywhere. Wordsworth wrote that "the innocent brightness of a new-born day is lovely yet." Contemplation of its magnificence imparts peace and serenity. The goodness and beauty of creation gives glory to God.
Compassion, which is God's gift to us, lies at the heart of our prayer for our fellow travellers. The psalms which are prayed each day around the world miss nothing of life. A renowned Scripture scholar, Carroll Stuhlmueller, remarked that the middle verse of all the verses in the psalms contains the Hebrew word which can mean either 'eye' or 'spring' – as if the eye of God looks with love and compassion on every moment of our lives and sometimes sheds a tear.
Each morning we are open to receive the gift of a new day – to sharpen our vision, to see good everywhere especially in our brothers and sisters who share this planet with us.
Why not open up your day by allowing God's sunlight to enter your heart and you'll discover the treasures of heaven.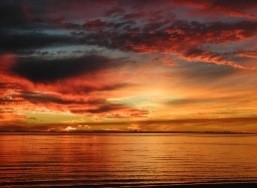 We need to begin to listen to relate to the earth as kin rather than a commodity, as partner and co-creator rather than property.
Pope Francis reminds us that wherever there are people, the Church is called to reach out to them and to bring "the joy of the Gospel and the mercy and forgiveness of God." Cardinal Martini said that "there is always a law to measure actions – but who can plumb the depths of the human soul?"
Seize the day, for in the words of Thomas Merton, "This day will not come again."
"Every morning a new world is born;
Every day a new chance."
Sr. Catherine Moran hfb