LOVE BENDS LOW
During the Christmas season, we are invited to contemplate the great mystery of the Incarnation – God coming to us in the form of a tiny child, born to poor parents who could not find shelter and safety for the young mother who was about to give birth. Jesus was born into a world that was not very different from our world today. The Jews were under the occupation of the Romans. It was a world torn apart by war, violence, oppression, division and hatred. In becoming incarnate, our God experienced cold, hunger, fear, suffering, persecution and even finally, a cruel death at the hands of an oppressive, occupying force.
The vulnerability of the Incarnation astounds us. The humility of God overwhelms us. "Though he was in the form of God, he did not consider equality with God something to be grasped, but made himself nothing, taking the form of a servant, being made in human likeness.  And being found in human form he humbled himself and became obedient to death, even death on a cross." (Phil 2:6-8).
In a sermon on the nativity of the Lord, the medieval theologian St. Bonaventure reflects on "The Word was made flesh" (John 1:14).  He says: "These words give expression to that heavenly mystery… that the eternal God has humbly bent down and lifted the dust of our nature into unity with God's own person." (Quoted in Ilia Delio's The Humility of God, p. 51).  For Bonaventure, incarnation is about a God who humbly bends down to lift us up and to unite us with God's own self. In the Incarnation, God bends over in love to meet us, finite human creatures, exactly where we are. This humble God meets us even in our sinfulness, violent tendencies and selfish behaviours.
God's humility was exemplified in the life and teaching of Jesus, who came not to be served but to serve and to give his life for all. "Learn from me for I am meek and humble of heart." And God's humility is also manifest in God's ongoing incarnation in each human being and in the material world. We know that God is present in every particle of the universe and, as a God who is present in everything, God experiences our joys and our sufferings and is vulnerable to all human experience, whether the humiliation and suffering of a refugee or the despair and rage of a terrorist. God suffers with creation.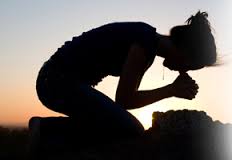 In our turn, we are called to model ourselves on Jesus' humility and to incarnate God's vulnerability and humility in our world today – a world where racism, xenophobia, exclusion and violence are rife. Yes, this is the mystery of Christmas — a God who is love bending low, so low as to be humble and hidden in the visible faces of each one of us.
There is a story told of a man who asked his rabbi why he couldn't see the face of God. What had happened that he could no longer reach high enough to see God? The rabbi, a very old man, had experienced a lot in his life and was very wise. "My son," he said, "we cannot see the face of God because there are so few of us who can stoop that low. Learn to bend, to bow, to kneel and stoop and you will be able to see God face-to-face."
If we want to see the face of God, sometimes we have to bend low, to look in the very places where we least expect to find God – in the darkness of war-torn Syria and the over-crowded refugee camps; in our prisons and those places where people live in despair. And often we need to look at those places within ourselves where we have to confront our fears, our loneliness doubts and confusion. God is there too. In fact, there isn't a place in this world that we or any part of creation can be separated from God's healing love.  That's the message of the Incarnation. That's the message of Christmas.