Prayer
"Rising very early, Jesus left and went off to a deserted place, where he prayed."
Mark 1:35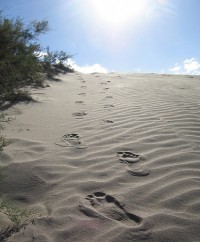 God shapes the world by prayer. St Teresa of Avila describes prayer as "being present to the One who is present to us in love." Prayer, too, has power over the heart of God. Tennyson says: "….more things are wrought by prayer than this world dreams of…" (Morte d'Arthur).
In prayer we can reach beyond the material universe and meet God in our heart. Jesus, instructing his disciples on how to pray, says:
"When you pray, go into your inner room,
close the door, and pray to your Father in secret." (Mt 5:6).
The following excerpt from the writings of the Roman Emperor, Marcus Aurelius, could well serve as a commentary on this scripture text:
"It is within your power whenever you choose, to retire into yourself. For nowhere, either with more quiet or more freedom from trouble does a man (sic) retire than into his own soul."
St Paul tells us that "the Spirit helps us in our weakness; for we do not know how to pray as we ought, but that very Spirit intercedes with sighs too deep for words. And God who searches the heart knows what is in the mind of the Spirit" (Rom 8:27). Over four hundred years later, St Patrick describes his experience at prayer: "I saw the Spirit praying within me…" (Confession).
In the 'Acts of the Apostles' we read,
"They persevered in prayer with one accord." (Acts 1: 12-14).
To pray always, as Jesus says, implies that we contemplate God's presence and God's providence everywhere – in daily events, in the Eucharist, above all in the people we meet – the stirrings of grace in our own soul. The psalmist says, "Even at night, my heart keeps watch."
Job says, "Speak to the earth and it will teach you." Earth is a sacrament, a sacred place. To the contemplative spirit, the vivifying power of God flashes out from the simplest natural phenomenon, the smallest seed:
"From the greatness and beauty of created things
comes a corresponding perception of their Creator" (Wisdom 13:5).
We are the prayer of the universe and the voice of Mother Earth. If we don't pray through creation nobody will. Jesus moved into his heritage – God's creation – with respect, care and love. He contemplated his Father at work in the countryside around him – in the wild flowers of the field, the birds of the air, the sparrow falling to the ground. He invited his disciples to "Consider the lilies – how they grow – not even Solomon in all his glory was arrayed like one of these" (Mt 6: 28-29). The Biblical bush still burns and we take off our shoes.
"God," said Patrick Kananagh "is found in the bits and pieces of every day." Bits and pieces are broken things, and God is really found in our brokenness and in the brokenness of our world. In prayer we find the strength and hope to sustain us on our pilgrim journey.
"Prayers are deathless: they outlive the lives of those who utter them." (E.M. Bounds – quoted in 'The Prayer of Jabez by Bruce Wilkinson). C.S. Lewis, in the play 'Shadowlands' by William Nicholson, says, "I pray because I can't help myself. I pray because I'm helpless. I pray because the need flows out of me all the time, waking and sleeping. It doesn't change God. It changes me." Kahlil Gibran goes further when he says:
"You pray in your distress and in your need: would that you might pray also in the fullness of your joy and in your days of abundance…"
Prayer is gift. St Augustine says that in prayer we open our hearts to receiving what God intends to give. Matt Talbot prayed for the gift of prayer and he tells us that it was given to him "in abundance."
In prayer we bring together the whole of Creation, so that in the words of St Paul,"all things may be united in Christ – things in heaven and things on earth." (Eph 1:10)
"For so the whole round earth is every way
bound by gold chains about the feet of God." (Tennyson: Morte d'Arthur)
Mahatma Gandhi admitted his need to pray:
"I am neither a man of letters nor of science, but I humbly claim to be a man of prayer… Prayer is the key to each morning, and the lock to each evening."
Henri Nouwen says that "compassion lies at the heart of our prayer for our fellow human beings". When we are separated we can find each other in prayer. Pierre Bienvenu Noailles, Founder of the Association of the Holy Family, said that "no matter how far apart we are we can always meet in the heart of Jesus."
Prayer
Lord, give me the grace to stand before the mystery of my life - to recognise where you touch me with Divine life. May I listen to your call as it comes to me each day in the depths of my being, and help me to respond with faith, courage and generosity. Call me home to that place in my heart where I shall experience deep peace and lasting happiness. Amen