Quasimodo Sunday and The Holy Family
In the time of our Founder the feast of the Holy Family was celebrated in Bordeaux on the second Sunday of Easter, known as Quasimodo Sunday, from the first words of the Entrance Antiphon.
In the homily notes which he wrote for that feast, we see that Fr. Noailles read the gospel of the day (Jn 20:19-31) in the light of the feast, and saw in it the story of the foundation of the Holy Family as well as its apostolic mission.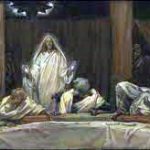 We still have the same gospel for the second Sunday of Easter so this can be a profitable time for us to reflect on our origins and our mission today. Our Founder made the comparison between the apparition of Jesus to the frightened apostles hidden in a room and the Miraculous Benediction when Jesus appeared in the monstrance to a small number of poor and vulnerable women hidden in a humble dwelling during the first years of the foundation of the Holy Family.
Jesus blessed the two groups. Both were reassured by the apparitions, and the words "Peace be with you" renewed their confidence. (These words of peace from this Gospel are represented on our Crest by the olive branches.)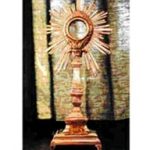 Fr. Noailles also saw the mission of the Holy Family mirrored in the mission of Jesus and the apostles, "As theFather sent me so I also send you." (And Fr. Noailles added, from another Gospel, "Go teach all nations.") He reflected that as Jesus Christ was sent not just for the salvation of a few people but for everybody, so too, the members of the Holy Family are sent not for one particular apostolate but for a variety, and not for any one class of society but for all.