Reflection on a Golden Jubilee
A Time to Celebrate

Any achievement is worthy of a celebration. It is great to have a motive for gathering and celebrating here today with Pauline, Annie, Ann and  Maria.
Fifty years ago you went your separate ways; you were full of youthful energy, ready to take on the world.
Today you return to celebrate all that happened over the last fifty years. The purpose of any celebration is to heighten and intensify the meaning of something; celebrations demand to be shared, heightened and widened. We are happy, therefore, that so many of you join us today on this great occasion.
Jesus came and declared a wedding, a feast, a celebration as the heart of life. He shocked people as much by the way he enjoyed life as by his message of new life. We tend to read the Gospel selectively and ignore Jesus' positive challenge to enjoy without guilt. Today is surely a day of JOY and THANKSGIVING.
On an occasion and a gathering such as this we too are invited to re-visit our own personal story. There have been great moments in all our lives. There were difficulties and challenges too. We grew into our vocation. Most of us would agree that the reason we came is not the reason we stayed.
Pope Francis has remarked that for some years now, instead of going forth, we seem to be returning. We need to ask the question: "Where is God leading us now?" Our communities, he said, "should be like airports where there is a constant taking off to new places without delays, without fear." We may not need to move outside our own communities to find new places and new ways of living and telling our story. St. Augustine, whose feast we celebrated yesterday, tells us to keep on walking into the future. Can we ask ourselves the vital question today: "Is it time to move on?"
There is a great deal of life still to be lived. It simply depends on how we live it. To quote Joan Chittester, "We can die years before our time, or we can live until we die." Where age predominates, she said, "the community mind must become a young vision rooted in old values".
Each person makes her own individual journey to God. There have been great moments in all our lives – difficulties, too and challenges. Many people have crossed our path and supported us; we sometimes, perhaps, received more than we were able to give.
People will forget what you said, but they will never forget how you made them feel. Kofi Annan, a former secretary general of the UN was renowned for his compassion and sense of God. He had a tree in his garden called 'the thinking tree'. Perhaps we, too, can focus on an object or event that will remind us to keep thinking and reflecting on new and exciting ways to tell the old story.
Pope Francis reflected on the three different looks which Jesus gave to the Apostle Peter – one of choosing, one of forgiveness and one of mission. Let us consider Jesus looking on us today as he looked on Peter. He chose us, he forgave us and he continues to point a way forward. Pope Francis urges us, too, to re-read that dialogue with Jesus and think about Jesus' gaze on us just as he gazed on Peter. The third look was a look of mission: "Feed my sheep."
I'd like to conclude with a little anecdote: A group of people had gathered to offer their condolences and to pray for the repose of the soul of a man in the neighbourhood who had died. One man who was particularly courageous and a little curious, ventured to ask the question: "What did he – the dead man – leave?" The answer came from a quiet man in the corner: "He left everything!" Strangely, that was what we promised when we entered Religious Life!
Again, we assure our four Jubilarians, Pauline, Annie, Ann and Maria that we are very happy to be with them to praise and thank God in the words of our concluding hymn: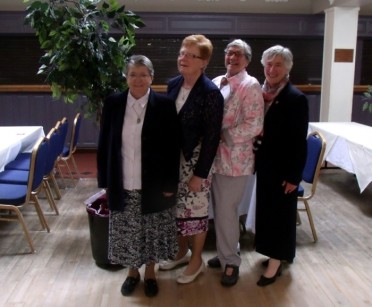 "Tell out, my soul, the glories of the Lord…
In God my Saviour shall my heart rejoice."