THE NAZARETH MANIFESTO
As the date for national elections in Ireland is approaching, candidates are already setting out their stalls, giving us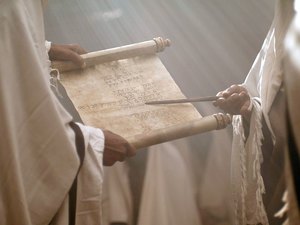 their manifesto for government, should they be successful. In the synagogue at Nazareth, reading from the scroll of the prophet Isaiah, Jesus proclaimed his manifesto to

"give the Good News to the poor, liberty to captives, new sight to the blind, and freedom for the downtrodden".
He invited his listeners to recognise in him the newness which had come among them. We know from our reading of the New Testament, especially the Gospels, that Jesus was faithful to his manifesto; he freed those who were enchained in rules and regulations; he restored sight to the blind and liberated those who were held captive in meaningless observances and weighed down with burdens. He fed the hungry crowds. Jesus' manifesto would eventually lead him all the way to Calvary.
It would be interesting to hear what St. Paul's 'manifesto' might have been. I venture to say that it is expressed in that lovely passage in his letter to the Galatians where he says: "I live by faith in the Son of God, who loved me and gave himself for me." Paul never met Christ in the flesh, but his experience on the road to Damascus was the defining event that would have shaped his 'manifesto'. As we read accounts of the hardships he endured in proclaiming Christ, we get some small idea of his vision of Christ`.
Lent is a good time to revisit the Gospels with a view to drawing up our own personal manifesto. We could ask ourselves what we are going to do for Lent, rather than what are we going to give up? We could, for example, take St. Paul's vision and make it our own; when we look at the Crucifix we, too, could say: "Jesus, you loved me and gave yourself for me".
Members of the Irish outgoing government will have to give an account of their stewardship while they were in office; they will be reminded of the promises they made in their last manifesto. As Jesus gazed on the multitude gathered on the hillside – the poor, the hungry, the abandoned, those whom he had healed, those thirsting for recognition – he must have recalled his manifesto which he had proclaimed at Nazareth. He told the crowds that they were blessed, that they had it all, the Kingdom was theirs.
The Nazareth manifesto is still relevant and challenges the followers of Jesus today. We ask: Who are the poor today? Where are they? They are among those unable to relate to others, because they have spent their lives unloved. They've always been treated with anger, rejection and insensitivity. We are surrounded, however, by examples of heroic courage, the courage of people struggling with the consequences of recent flooding, the courage of people trying to put their lives back together again.
This year of Mercy challenges us to recapture the content of the Nazareth manifesto and to walk in newness of life with our brothers and sisters who are hungry, unloved, unwanted and who are reaching out for help and recognition. I'd like to conclude with a prayer from Pope St. John Paul II,
"Lord Jesus, reveal to me the beauty of the vision you proclaimed on the Mount of the Beatitudes."
Sr. Catherine Moran