Safeguarding Update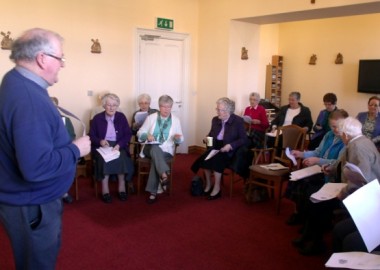 Safeguarding is a process that is still evolving as awareness of the dangers to which children and vulnerable adults can be exposed becomes more widespread. That is why a group of sisters representing all the Holy Family communities in Ireland met in Newbridge for an update on the latest guidelines.
The meeting was facilitated by Fr. Paddy Boyle, Dublin Diocese Training & Development Co-ordinator for safeguarding, at the request of the Holy Family Safeguarding Team for Britain and Ireland. Although many of the participants had already done training on child abuse, this relaxed, interactive workshop in the comfort of Newbridge Convent was an opportunity to raise broader issues and ask questions which would not have been possible in a larger, more disparate group.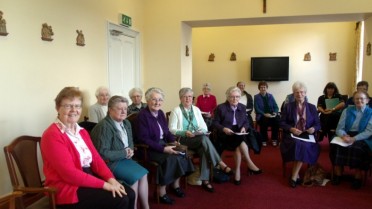 The different types of abuse, who abuses, who are the abused, were some of the points raised. Young people abusing one another, normally called bullying, is now being done and made easier and more vicious through social media. Many schools have an anti-bullying policy statement posted prominently for all to read. Instances of abuse of the elderly in Nursing Homes have made headlines recently and are under investigation. In 2005 the HSE (Health Service Executive) published a document on the prevention of abuse of the elderly.
Fr. Paddy is well versed in safeguarding policies both in Ireland and Britain and could point out the differences existing in the two jurisdictions. Some interesting, even contradictory, facts emerged in a discussion around such topics as the legal age of consent, when does one become an adult, the age when one becomes liable for criminal activity, marriageable age… For example, although the age for adulthood is 18, a person becomes an adult if married by the age of 16. However, such a person would not be allowed to vote until the age of 18.
A significant difference between Ireland and Britain is that Ireland has no official policy on vulnerable adults. When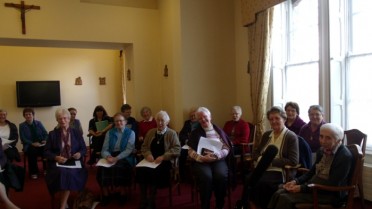 people with disabilities reach the age of 18 they are treated as adults in all respects whereas, in Britain, there is legislation to protect 'adults at risk' or 'vulnerable adults'. This is a point of law for advocacy in Ireland.
The Seven Standards, as now formulated, were carefully examined with wide ranging comments from Fr. Paddy in response to participant questions. This will not be the last meeting as more work is done on the outstanding issue of vulnerable adults.