Women's march in London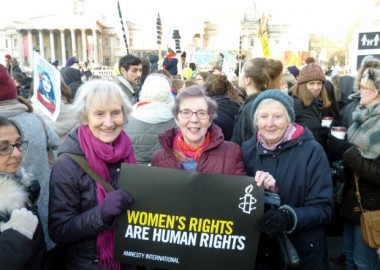 Jo Siedlecka
January 22, 2017
Women's marches were held in dozens of cities around the world on Saturday, to voice their concerns over the incoming administration of President Donald Trump. In London more than 100,000 women walked from the American embassy in Grosvenor Square to Trafalgar Square – among them were individuals and representatives from many Christian churches and organisations.
Pat Gaffney, General Secretary of Pax Christi told ICN: "Pax Christi thought it important to have a peace and justice presence at the Women's March today. We had two aspects to our message: 'No to fear and division', this speaks to our world today and the dangers of scaremongering and scapegoating especially the vulnerable and marginalised. The second – 'Cut military spending – fund human need', addressed the global obsession with military spending which seems likely to increase under the new US administration. It was heartening to see a connection between messages that were being shared today: justice, equality, cooperation, service, peace, inclusion, respect… all pointing to the values and vision that so many work for today."
Alexis, a Catholic nurse from West London said: "Mr Trump has only just become president, but I am worried about the things he has said he is going to do. If he does shut down Obamacare as he promises, many people will not be able to afford medical treatment. If he keeps his promises about abandoning America's environmental policies, deporting migrants, building the wall – many millions will suffer."
Professor Tina Beattie, founder of the international forum Catholic Women Speak, said: "While CWS brings together women from across the spectrum of the Church, we share the fundamental principle that women have a right and a duty to speak and be heard in ways which respect our human dignity and equality, and our right to full participation in politics, society and religion. That is why we decided to march today. CWS women marched in cities around the world, including Washington DC, New York, Madison, St Louis, Houston, Ottawa, Sydney and London."
Melissa Martin an Anglican parishioner from Stoke Newington, north London, said: "it was really good to see so many people and I'm glad it went peacefully. All we are asking for is equality for everyone, common decency and a government that listens."
Among the banners were the slogans: 'Women peacemakers say no to fear and division and yes to peace and justice.' 'Refugees and migrants welcome here', 'Cut military spending; Fund human needs', Women's Rights are Human Right's', 'Love Trumps Hate' and 'Toddlers for Resistance'.