Sr. Paul Gravin's Story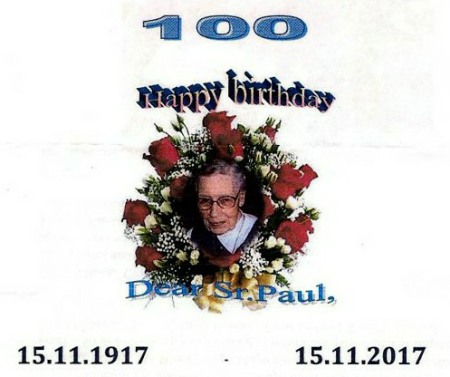 SR. PAUL'S GRAVIN FAMILY STORY
On 15 November 1917, baby Mary Gravin was born in Gortnaclassagh, Clogher, Co. Mayo, the second of nine children – 7 girls: Mary, Kathleen, Annie, May, Bridie, Norah, Sandra and Teresa, and 2 boys: Joseph and Patrick. She was baptised in Aghagower Church, with Auntie Bee and Pat Foley as godparents.
Mary's parents were Kathleen Herrity and Patrick Gravin, proud natives of Mayo, who reminded their children they were descended from the Armada.
Mary's mother had seven brothers, all of whom emigrated to the States, where they settled, married and brought up their families, many of them in and around Chicago. Mary's father had a brother, John, who studied for the priesthood in Maynooth, but before his ordination got TB and died. Mary's father was well known as a campaigner for justice and freedom. He also had "the Cure" for animals. As the local "quack" he was often called on to help at all hours of the day and night.
Mary's parents encouraged the children to make the most of their opportunities and they did this by example. I found one little nugget of Patrick's way with words while researching Sr. Paul's story. It reads:
Ah sweet Kilmaclasser!
In death, I'll embrace you.
No tombstone I'll ask for,
No inscription I'll crave.
But the soil round your abbey
my dead bones to cover,
and the sunlight of freedom
to shine on my grave.
In this rural, wholesome setting of farming, or one the bog, Mary imbibed her love of the outdoors and of nature in its many beautiful forms and shades.
Her earliest memories are of the fifteen minutes' walk to school or to Mass, journeys in the sidecar and later in the trap. The only car was the local hackney. Coupled with these are memories of saving the turf, of butter making with the "dash", etc…
And so, like many of us, the call was heard. To the question, "Why did you join the Holy Family?", Mary's answer was, "My mother had a friend who was a sister of the Holy Family and I liked the name". This was in spite of happy school memories of the Sisters of Mercy in Westport and two years with the Mercy's in Callan.
SR. PAUL'S HOLY FAMILY STORY
On 16 July 1937, Mary Gravin left Ireland and began her Holy Family religious formation as a postulant and novice. This period of preparation took place in Rock Ferry, North West England.
On 8 February 1939, she made her religious profession for one year. Ten days later, with four other young sisters, she left England for Marseilles. Following the custom of all missionaries, they went to Mass in Notre Dame de la Garde before boarding a cruiser for Cape Town. The journey took three weeks. While on board Sr. Pau developed a mastoid, a painful ear infection. On arrival in Cape Town, she was taken to the Holy Family clinic, which was well known to crews landing in South Africa. After surgery and recuperation, she travelled to Johannesburg where she trained her future ministry of teaching.
During this time, Sr. Paul's younger sister, Sr Anthony, had begun her formation and was preparing to follow a missionary vocation in Africa also. This was wonderful news for Sr. Paul but, alas, Sr. Anthony's health gave cause for concern and she died of TB in Yorkshire in 1944 aged 21. What a blow, what cross for Sr. Paul but she soldiered on in faith and trust.
Between 1939 and 1952, Sr. Paul taught thousands of South African children. It must be noted that South Africa was a British colony and here apartheid was an awful reality. Black people were deprived of the basic needs, especially education. Sr. Paul taught in Holy Family schools in Johannesburg, Bloemfontein and Durban for thirteen years.
In 1952, she returned to Europe, retrained in Newcastle on Tyne and taught in schools in Leeds, Liverpool and Wallasey where she was head of a preparatory school for six years. In 1982, Sr. Paul retired from teaching but continued to give herself to people in several parishes in Britain and Ireland. She kept herself informed about hanging times in society, the Church and religious life and took advantage of opportunities for renewal.
In 2003, aged 86, she retired. At least, so some people thought. For her, retirement took several forms such as:
Researching and writing reflective passages for the Holy Family website
keeping in touch with all those with whom she had lived and worked, by letter. No, she never possessed a laptop or iPhone.
and finally developing her love for art, especially flowers, birds and animals.
In 2014 and 2016, Sr. Paul's art was exhibited locally, many pieces being sold for the Holy Family missions in Pakistan.
And so, Sr. Paul, we conclude this volume of your story with your patron's beautiful, encouraging reflection to you and to each of us:
"You are God's work of art…" (Heb2:10)
"Before the world was made, I chose you." (John 1)
"I have blessed you, Paul, with all the spiritual blessings of heaven in Christ." (Eph. 1)
Sr. Esther Delaney