Our way of life
"Glory to God alone in Jesus Christ through Mary and Saint Joseph"
These words capture the essence of Pierre Bienvenu Noailles's CHARISM, a vision that opened up a spiritual and gospel path for the members of the Association he founded. They offer us: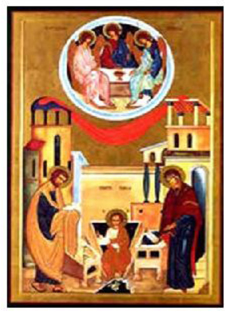 "It is in You, in You alone that one finds this life of the soul which is immortality, this life of the heart which is an immense love…
You are the Way. You alone are the Truth. You alone are Life and happiness." (Pierre Bienvenu Noailles)
In God alone we contemplate the Trinitarian God, self-giving, inclusive, unending Love, ultimate Mystery, incarnated in Jesus Christ, "the image of the invisible God", born of Mary, fostered by Joseph in their home at Nazareth in a wonderful communion of love, God who is beyond our grasp yet mysteriously present, God who is COMMUNION, TRINITY, FAMILY. We contemplate the infinite interchange of love among the three Persons of the Trinity mirrored in the unity of that 'earthly trinity', the Holy Family of Nazareth.
When Pierre Bienvenu received the inspiration to found a Holy Family, an Association of Christians that would live as the early Christians lived, he proposed Jesus, Mary and Joseph to its members as their models, telling them to "go often to Nazareth".
Jesus Christ came on earth "to gather into one the dispersed children of God". (Jn. 11, 52)
Our Family mission is to share with Jesus in the gathering together of the Family of God, to be signs of COMMUNION in a divided world. Wherever we are, whatever we do, we bear witness to the Church as Family as we try to show that communion among all is possible in Jesus Christ.
In the Holy Family the most diverse vocations are gathered into one great unity and live in solidarity and complementarity without distinction of race, caste, culture, vocation or service. Our structure as a family in the Church unifies our prayer and action for our common mission.