Prayer of the Day
Feast of St. Dominic, Founder of the Dominican Order
August 8th, 2015
"Nothing would be impossible for you."
Matthew 17 : 20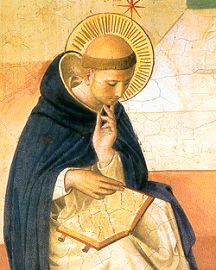 The mustard seed is not the smallest seed known today,  but it was the smallest used by Palestinian farmers and gardeners.  In this imagery used by Jesus,  the smallest garden seed is enough to move mountains.  The faith that Jesus likes to see is a complete,  trusting faith,  and total confidence in God's power,  no matter what happens.  It would be good to memorize Matthew 16 : 15; "You are the Christ,  the Son of the living God" as this is the key that unlocks the entire Bible. It is also the key that opens up the mystery of faith.  As Saint James says; "faith needs to be supported by or actions."   Regarding these needs or actions,  we tend,  quite rightly to think in terms of serving the poor,  giving generously,  being kind and obliging.  A joyful and a giving person is always a good witness.
Saint Dominic,  whose feast we celebrate today,  and who was the Founder of the Order of Preachers,  wrote that proclaiming the Gospel depended on our life of prayer and faith.  The contemplative Thomas Merton said; "Faith is the only key to the universe."  May the Holy Spirit give us a lively understanding of the truths of faith in a way which can and will transform our lives.
.
Prayer
Lord, burn in my heart a message of love and mercy which I can proclaim to the world. Amen