Prayer of the Day
Feast of St. John Vianney, Priest
August 4th, 2015
"Take courage, it is I, do not be afraid."
Matthew 14 : 28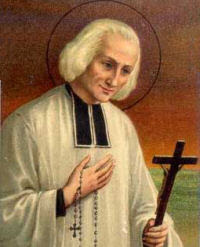 Today we celebrate the feast of the great hero of our faith,  Saint John Vianney,  the Curé d'Ars.  He is best known for his ministry as a confessor.  It was not uncommon for him to spend twelve hours or more a day helping to reconcile people with God.
Today's liturgy invites us to consider the miracle of Jesus walking on water.  More important than the miracle itself,  however,  is perhaps the word Jesus speaks in the midst of the storm; "Take heart,  it is I,  have no fear."  In his first sermon as Pope on 22nd October 1978,  Saint John Paul II cried out three times with a deep sense of compassion; "Do not be afraid."   He was echoing the words of his Lord and Master walking on Lake Galilee,  where the disciples,  even though experienced fishermen,  were frightened.  We all live with many fears and anxieties – this is part and parcel of our humanity.  Many problems,  like relationship breakdown and the day to day struggles we all face,  cause us to fear.  However,  if we are open and listen,  we will hear the gentle and reassuring voice of the Holy Spirit speak to us,  enabling us to put away our anxious thoughts and fretful ways.
Prayer
"It is always springtime in the heart that loves God." (St. John Vianney) Amen