Prayer of the Day
Feast of The Assumption of The Blessed Virgin Mary
August 15th, 2015
"Blessed is she who believed that the promise made her by the Lord would be fulfilled."
Luke 1 : 45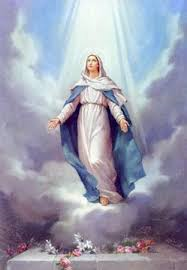 Mary believed in the promises when they were only promises, long before they were realised. In our selected passage for today's reflection, Mary is acclaimed by Elizabeth as "blessed among women" for trusting in the Lord's words to her.  In faith Mary had been treasuring extraordinary secrets of God.  Like Jesus, Mary would be disappointed and tested; she would be rebuffed and frustrated; yet she continued to trust. She realised, as she sang her Magnificat, that God "had done great things for her."
Mary is our model of faith. She provides an example of how to be obedient to the goals and hopes which God, through Jesus, places within us.
Prayer
The Almighty as done great things for us and 'Holy' is his name. Amen