Prayer of the Day
Third Week of Easter – Feast of St. Fidelis, a Capuchin priest who was murdered by a group of extremists in Switzerland while preaching to the Calvinists
April 24th, 2015
""I am the living bread come down from Heaven. Anyone who eats this bread will live forever.""
John 6 : 52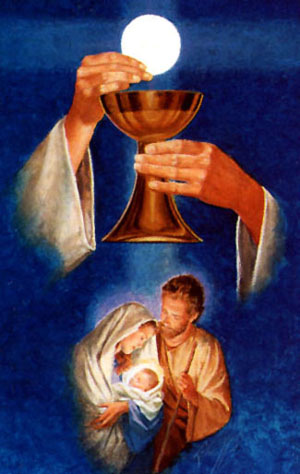 Jesus taught this doctrine in the Synagogue in Capernaum.   Many of the Jews refused to believe him.  To them this was impossible,  but to people of faith everything is possible to God.  The poet, Patrick Kavanagh says; "In a crumb of bread lies the whole mystery of the Eucharist."   For Christ took bread and blessed it and broke it and gave it to his disciples at the Last Supper.  That was the greatest gift he had for us – the gift of Himself.  This was fore-shadowed by the gift of the manna in the desert by which God fed the chosen people.  However,  the chosen people are dead.  Christ says; "That anyone who eats the Bread he gives us will live forever for we will have eternal life." (John 6 : 58)
We draw our Divine Life from Jesus in the Eucharist every time we receive Holy Communion.  There we are fed on the body and blood of Christ.  Christ says; "Those who eat me draw life from me." (John 6 : 56)  This changes our lives completely.  We now grow in the likeness of Christ.  Our faith in Christ is strengthened for the Eucharist is a mystery of our faith.
Prayer
Lord, we thank you for the gift of yourself to us in the Eucharist. Help us to become more and more aware that every Communion is a meeting with you. This we ask through Christ, our Lord. Amen