Happiness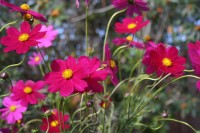 "Happy the people whose God is the Lord."
Psalm 144:15
Happy birthday! Happy Christmas! Happy New Year! Happy holiday! What scenes, emotions, feelings do these phrases conjure up for us? What are we really wishing for the person we are remembering-or indeed, what do we hope for ourselves when we receive a card?
What is it to be happy? What kind of happiness lies in the celebration of a birthday or the thought of Christmas approaching? What does the New Year hold for us and what makes a happy holiday?
The answer to all these questions lies in our idea of true happiness, a happiness that makes us content within ourselves, integrated and free; free from the baggage of the hurts, injustices and disappointments we collect on life's journey, a freedom that allows us to let go of past events which were painful at the time.
So what are the deeper things in life that will make us happy, that will help us to shrug off life's hurts as we meet them along our journey? For true happiness does not shield us entirely from these hurts.
As a child, I remember hearing a song often sung on the radio, in music halls, variety shows and by the older people around me. There is only one line of the song I remember now-perhaps the most important line-'live, love and laugh …' – that is all I can remember, but I carry the tune in my memory! To my mind, those three words are the secret to true happiness.
Jesus said, "I have come that you may have life and have it abundantly." In other words, God gave us life, along with the gifts that go with it, to live it to the full, to enjoy it. But what kind of life does Jesus mean? First and foremost, as an adult, I am responsible for the happiness of my life. As a child, my upbringing and the principles of life and behaviour were the responsibility of my parents and our home situation. The experience of these early years may be part of the baggage mentioned earlier, that needs to be shed. That is my responsibility now as an adult. Having forgiven others for their negative influence in the past, I turn my attention to what happens in my life here and now.
Jesus said he had come to give life. It is in his teachings, portrayed in the gospels, that my life will reach its fullness. These teachings on life call me to love and, in loving according to the gospels, then I will be able to laugh. Happiness is to be found in honesty; in holding on to one's principles and in being faithful to oneself and to others, especially those who hold a special place in my life and to whom I am committed.
So, when you send a card, write what you really mean when you wish someone happiness. What kind of happiness do you wish for them on this particular occasion and remember to pray this for them. Meanwhile, look in the mirror each morning; there is the person God loves and for whom he has desired fullness of life and love to pass on to others.
Prayer
Lord, fill my heart with your joy and peace, so that I may be able to brighten the lives of those with whom I come in contact each day. I lift up to you all those who have lost an appreciation of the good things around them and who are no longer able to enjoy your gifts of beauty and goodness. Amen