Holy Family Prayer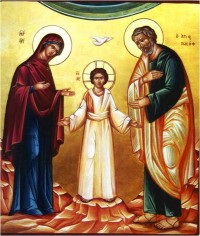 God our Father,
in the Holy Family of Nazareth you embraced our world with great tenderness and love, and renewed family life in the pure and noble dignity you intended from the beginning.
To Mary and Joseph who walked the path of faith with courage and fidelity, you entrusted Jesus, your Son,to grow in stature and wisdom and in favour with all.Enfolded in the love and warmth of that family the beginnings of our redemption took hold.
Lead us to grow in the warmth and gentleness of the Holy Family, that 'gentle image of the Trinity', poor in the eyes of the world, rich in the treasures of heaven, hidden and unknown on the earth, contemplated by the angels.
Like Jesus, Mary and Joseph who contemplated your will, Father, as it unfolded, may we, too, hold your Word, ponder it in our hearts, and respond with courage and generosity as Jesus makes his home in us.
Deepen our love for one another and enable us to live in peace, Father, united with you and with each other.
Inspired by the way of life of Jesus, Mary and Joseph, lead us to treasure what is most deeply human. Teach us the sanctity of human love and show us the value of family life that we may share in your love and life forever.
Amen.