Talitha Kum Assembly of Religious tackling trafficking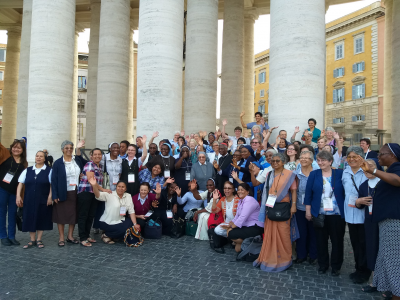 The participation of the 86 delegates from all over the world inaugurated the first day of the first assembly of Talitha Kum, the international network of Consecrated Life against trafficking in persons. Meeting 21-27 September in Rome it aims to work on setting the Talitha Kum priorities for 2020-2025 and strengthening collaboration between networks.
Sr. Yolanta Kafka gave an opening welcome to the General Assembly and a brief history of the context of Talitha Kum over the past 10 years and the situation of human trafficking.
Sr. Gabriella Bottani then offered opening remarks, including reflections on the impact of Talitha Kum networks around the world and growing connections and support between networks. She also talked about some of the root causes of human trafficking including sexism, neo-liberal capitalism, racism and xenophobia, and the normalisation of exploitation. She said:
"Together: different people who have experienced the trauma of trafficking, religious persons and committed laity of different charisms, who accept the challenge of collaborating. People from different cultures, countries, religious traditions, ideas, gifts, and worldviews. Together we learn freedom, respect and appreciation of diversity, protecting the inherent dignity of each person.
Together against human trafficking: Together, with the aim of promoting paths and processes of liberation and dignity, against all forms of human and environmental exploitation. Because, as Pope Francis reminds us well in his encyclical Laudato Si' – 'The human environment and the natural environment degrade together' (LS 48). Indeed, we observe this mutual degradation in different contexts: in the mines of the region of the Great Lakes in Congo, in the mangrove forests in Bangladesh, and, I would like to recall in particular, in the Amazon region, not only because it is particularly dear to me, but because human and environmental exploitation will be one of the themes addressed at the Synod that will open in a few weeks.
Weaving a web in Love: Talitha Kum networks weave activities of prevention, social rehabilitation and reintegration of all those ones suffering the violence of trafficking – individuals, families and communities. Human trafficking not only impacts on the trafficked person; it involves families, villages, countries. Weaving a web in love allows us to enter the shadowy drivers that foster the spreading of trafficking, the structural contributing factors."
Link: www.talithakum.info/en/news