The Great 'O' Antiphons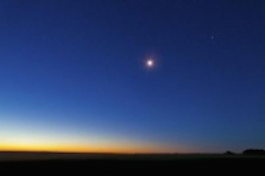 O Oriens
Fr Robin Gibbons
O Morning Star, splendour of light eternal and sun of righteousness:
Come and enlighten those who dwell in darkness and the shadow of death.
For those who live in the Northern Hemisphere, the 21st December is the shortest day, the Winter solstice a turning point when the suns light begins to increase and the long dark nights grow shorter, a time of rebirth and renewal.
Though the actual solstice is a moment in time, this day has been one of celebration for thousands of years. We know that our ancestors used this as the last feast before the onset of deep winter, a time when hunger and cold meant that many living things would not survive, so it was a festival of hope that in the lengthening days new growth, new life would come in the spring.
Christianity didn't take over these celebrations, as some people like to make out, it had its own traditions which fitted alongside these customs as they still do. Already in the long ancestral faith of Judaism, light and darkness are seen as gifts and metaphors for God's glory and presence. In the words of the antiphon O Oriens we find hope of a new and eternal light that will never set, the Morning Star that is Jesus our Messiah.
Isaiah speaks of a people who walking in darkness will see a great light, 'those who lived in a land of deep darkness-on them light has shined' (Is 9.2) In another oracle he reminds us that the Spirit of God has been given to us so that we may see the light; 'Arise shine, for you light has come, and the glory of the Lord rises upon you'. (Is 60.1-2).
It is easy to see how Christ became associated with images of the rising Sun, and the Morning Star of Venus, for He, 'our true light' as the Gospel of John puts it, entered the world 'so that life was the light of all people. The light shines in darkness, and the darkness has not overcome it…We have seen his glory, the glory of the one and only Son'. (Jn 1.4,5;14) Christ is the light that will never go out!
Deeply rooted in our Christian faith is the ancient tradition of praying towards the 'liturgical east'. In many eastern baptismal rites the community turns eastwards with the ones to be baptised to accept Christ, and in public prayer that tradition is maintained for litanic and intercessory prayer!
When we pray this antiphon, we think not only of a light in our lives and hearts but also of that 'Morning Star which never sets' as the Exsultet puts it at the Easter Vigil. This star is Christ our true God, who has come to save us. We pray for all, who in different kinds of darkness, suffer loss of hope and faith, may Christ the sun of righteousness shine in their hearts today!