Contemplative Sisters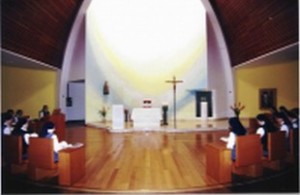 As Holy Family Contemplatives, we are called to imitate the life of Jesus, Mary and Joseph in the home of Nazareth – a life of silence and solitude hidden in God, a life of love in obedience and selflessness.
In the Church we continue the prayerful attitude of Jesus
turned towards his Father in adoration and praise,
in thanksgiving and intercession. (Constitutions)
Contemplative Life
does not separate us from the reality of life. It situates us in the very heart of life, close to others, as a sign of faith and hope and unity. "The Holy Family of Nazareth created a home where the most perfect communion with the Father and the entire human race was lived." Constitutions art. 166
Our mission in the Church is centred primarily on God's tremendous plan of love to bring everyone together into God's own Family. Hence, living in community is very important. To live community, like the Holy Family of Nazareth, is a long journey towards unification of our being in order to have but one heart and one mind in and through Jesus Christ.

The Eucharist and the Word of God nourish our life of continual prayer and offer a rhythm of peace to each day.
We come together to celebrate the Divine Office and the Eucharist. Each Sister spends one hour in personal prayer,in Lectio Divina and in adoration before the Blessed Sacrament.
Adoration is a mission confided to us by our Founder in thanksgiving for the Miraculous Benediction of 1822.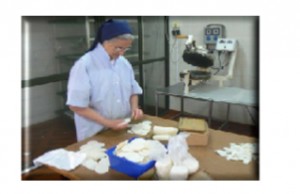 Work keeps us in touch with reality. Each of our communities provides for its needs.
Our field of ministry is within our own heart. In silence and solitude we meet the Lord, receive God's word and grow to an ever-deeper union with God and with humanity. It is here that we discover ourselves as sinners with sinners, saved and blessed by the mercy and compassion of God. This is where we live our solidarity with all humanity.

For location of Holy Family Contemplative communities click here…