Who was Pierre Bienvenu Noailles?
Pierre Bienvenu Noailles was the eighth of ten children born to Pierre Noailles and Madeleine Ricard on the 27th of October 1793. Because it was becoming dangerous to practice one's religion, his parents had him baptised the same day in the Cathedral of St. André. A few days later, it was turned into a depot of animal fodder for the army.
Pierre Bienvenu grew up in a closely-knit family surrounded by loving brothers and sisters. He was a lively child, daring to recklessness, precociously intelligent, self-willed but of great sensitivity of heart so that he was loved by all. He was a charming young man, gifted and enterprising, interested in all life had to offer by way of ideas, occupations, amusements – in all except religion.
Religious Formation
Religion, for Pierre Bienvenu at that time, was little more than a "rather vague type of sentimentalism of which he knew nothing in practice". As a student in 1810, however, he came in contact with priests who had risked their lives during the Revolution and given a powerful witness of faith.
One of these, Fr. Dinety, prepared Pierre Bienvenu for his first communion, which he received at the age of 20 years. It was a key event in his life. On the eve of that day, he went into the cathedral of St André, the place of his baptism, to pray before the statue of Our Blessed Lady and had a mystical experience of the infinite mercy of God. It filled him with an unforgettable joy that ever after remained for him a reference for what true happiness could be.
Pierre Bienvenu arrived in Paris at the beginning of October 1816 with the declared intention of studying law but with some uncertainty of mind. On the evening of 10 October, while wandering aimlessly in the streets, he went into the church of St. Sulpice. His eyes were drawn to a statue of Our Lady holding Jesus in her arms in such a way that she seemed to be presenting him to those who were there, praying to her.
It was an intense moment of grace for the young man. He went to confession straightaway. The priest encouraged him to think about the priesthood and invited him to visit the Seminary of St. Sulpice. Three days later, abandoning his plans to pursue a career in law, he entered that seminary and began his studies for the priesthood.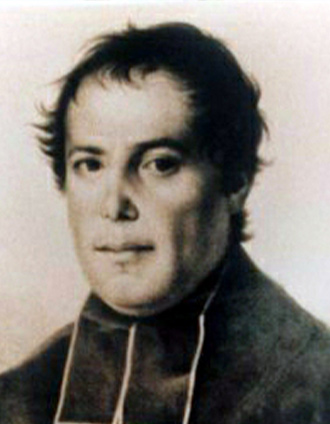 A Divine inspiration
At the Seminary he took the call to holiness addressed to all the baptised very seriously. He often contemplated the Holy Family whom he referred to as "the sweet image of the Trinity". It was in this intimate dialogue with Jesus, Mary and Joseph that he discovered his spiritual identity. It can be summed up in one phrase that constitutes the core of the founding charism he was to receive:
Seek God Alone in all things like Jesus, Mary and Joseph.
Pierre Bienvenu cultivated that precious grace, the call to renew the Church of his time, to present to the world a God who was near and a Church with a 'family face', something for which the first Christian communities have left us a taste. Inspired by God he conceived the plan of a vast Society, something very new for his time. It would welcome within its fold women and men of all conditions and vocations.
Priest and Founder
Pierre Bienvenu Noailles was ordained to the Priesthood on the 5th of June 1819, the eve of Trinity Sunday. He was appointed curate in his home parish of St. Eulalie, Bordeaux, where his family lived.
On the 27th of May 1820, eve of Trinity Sunday, three young women, one of them the Founder's sister, came together in a modest apartment in Bordeaux to begin their initiation into the religious life. After an eight day retreat directed by Fr. Noailles, they gave themselves to God as members of the Holy Family Association.
For more information on the life and work of Pierre Bienvenu Noailles, click here.